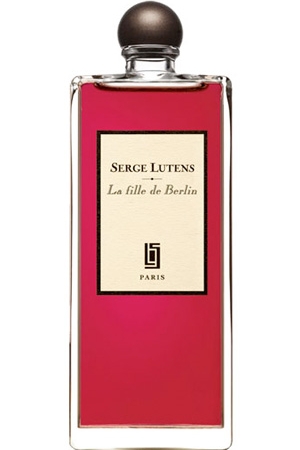 This isn't really a review. I don't like writing "reviews" because I don't feel like I'm really a trusted authority, and I don't want to mislead people into thinking I might be one, and find that I have led them astray. Reviews always run the risk of being pretentious, so this is simply an "impression".
Le Fille de Berlin
is a rose fragrance. However, if you don't specifically like rose, you might still like this. It is an androgynous rose, after all roses don't exactly have genders themselves. Some reviewers described it as a "dirty rose", or a "city rose". There is something unclean about this rose, something risky, and potentially dangerous (not in a sexy way necessarily, and not "dirty" in a sexy way either, this isn't a tease, it is the real thing).
Besides rose, the other impressions are; red wine (strong at first), rose scented incense (so rose + smoke + burning wood), something metallic (my favorite note), pomegranate, white pepper or black I guess, there is a distinct peperyness to it, as if the wearer had recently been in a restaurant.
It inst an overpowering smell, I don't imagine the personality who would wear this wanting to smell like a giant bouquet, it is subtle.
So, does the name fit? I think yes, this perfume is independent, unique and headstrong, not ashamed of the feminine element one bit because here femininity equals strength, and fearlessness. So, the Berlin girl who inspired it can be proud.
Here is a song that fits with it, I think: