So, Valerie Hegarty is not news, but this isn't about news. This is about rediscovering the past and going back to notice things that might have been missed the first time around. These "things" change everything. Appropriately, this is a central part of her art (as well as this blog). This is what she says of her "Play Pen" installation on
her website
.
"An archaeology of my past, the recreation impulse taps into the power of make-believe where I create a space of a remembered place, which I can re-enter and excavate in order to discover something about the present. In this way, I become my personal history's creator, archaeologist, and historian – a concept that can extend out to our dynamic relationship to the past."
As I lurk, or creep, around the Internet, often I browse archives. It is tempting to comment on threads that ended 5 years ago. Maybe it was something I wanted to reference that causes me to look back at an old article and old comments. This always makes me think I have so much more relevant insight now, when the article is long forgotten. Now that my insight is most relevant and fully developed, it is actually irrelevant because of time and because everyone else has moved on to something else. It seems like we just jump from one half formed thought to another without ever finishing the first one. The seriousness of an important issue deserves a nice long ponderous sit with a cup of tea. It must be turned over in the mind, this way and that way. It takes a lot of time to really think about anything.
Things Make more sense looking back. While in the moment everything is chaos. I am not one of those hypocritical Internet bashers who write a blog about how awful the Internet is so I blame the tendency to live in the moment and not look back on the tricky catch-all that is human nature.
Isn't it human nature too, to look back? But my looking back is not for nostalgia, its not for romance or guidance. I look back to correct that which I know now, is wrong. It is taken for granted that history is the interpretation of the historian but which parts exactly are up for a fresh perspective? Hegarty writes in her artist statement:
In my work, I reconstruct and deconstruct historic paintings and sculptures from American art history to re-present them as modern ruins. Working with fragile materials, including foam core, paper, paint and glue, I recreate the original objects, only to then demolish them by the same devices associated with their historical significance. Posing as artifacts of art history gone awry, the combination of real and fabricated components leaves the viewer to wonder at the veracity of the transformation.
The obvious danger is that is that the hindsight bias kicks in. Unfortunately, the alternative is that past events go unexamined and unexplained, leading one to the sense that one is living in chaos. Chaos being the present. One is trapped in a ceaseless present. The hindsight bias and even "coloring" the past is still better than letting it be. Of course revisionism has been badly mishandled by every dictator that ever was, but it is only revealing of how critical the past is in forming an identity (in the case of dictators, the identity of the state).
I am not advocating that we come up with a radical new interpretation of the constitution but personal revisionism is necessary for growth as a person even with the tint of nostalgia one's perspective is more in focus, looking back. I think that that is what Hegarty might be suggesting with in her work. George Washington is one of her symbols for American identity. As a side note I happen to be reading a really enlightening book by Charles C. Mann called
1493
, it goes into the specifics of some of the parts of history that should be up for interpretation a bit more, not just by historians but regular people. It is nearly impossible to separate your own personal history from the history of the place you live. Over at All Things Ruffnerian there is more information about
George Washington
paintings, if you're curious.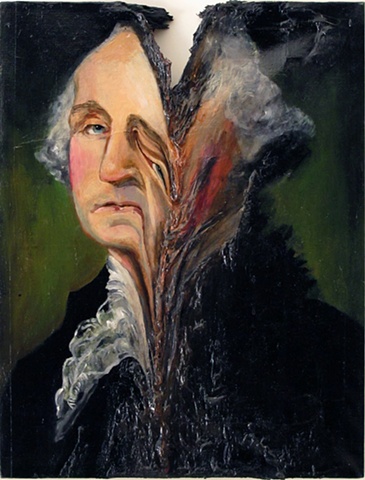 Revisiting national history and history in general and revisiting personal history appear in Hegarty's work because these are almost inseparable. Her revisiting of her personal history is in some part inspired by The Yellow Wallpaper.
"Then I peeled off all the paper I could reach standing on the floor. It sticks horribly and the pattern just enjoys it! All those strangled heads and bulbous eyes and waddling fungus just shriek with derision!"
I had never heard of The Yellow Wallpaper before I decided to read it. I did, for no other reason than being repulsed by the idea of yellow wallpaper. So naturally, my instinct was to read it. I think the way the protagonist fights to conquer the past, represented by the yellow wallpaper, can be extended beyond partiarchal domination and serve as a valid metaphor for the past in general. The constantly shifting and elusive nature of the past can be infuriating at times whether its a personal history or a national history. There is also the idea that history is a pattern that keeps repeating itself, which I never liked. It does seem to be a pattern at times but to figure out how and where exactly, might be maddening. Of course this applies to personal experience as well. Sometimes it seems like one keeps doing the same thing over and over unconsciously; buying the same white shirt over and over no matter how many you own already, befriending similar types of people, getting into the same relationship over and over, repeatedly creating the same work of art... the list goes on. Yet, when it comes to tracing the pattern back to some kind of origin, one finds that the path leads to more paths which in tern lead to others.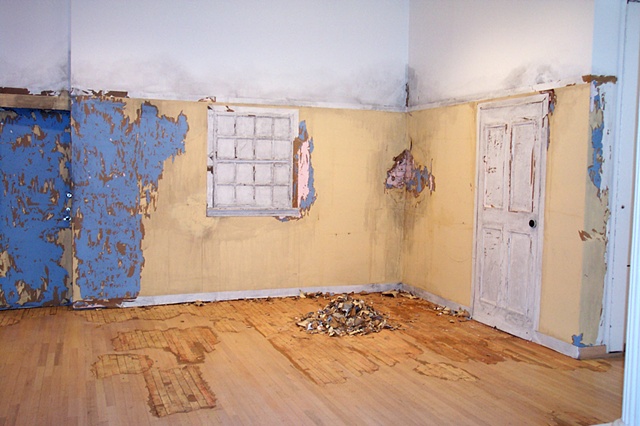 "Childhood Bedroom" 2004
Hegarty did an installation called "The Yellow Wallpaper", but to me its apparent that this was not the only one of her works that were influence by the book. The "Childhood Bedroom" installation (above) also reflects the ideas in the book. The peeling of the yellow paper in the room is an obvious hint. It does go deeper. She talks about being her own archaeologist while recreating her childhood bedroom. Over the course of the installation the wall paper was peeled away. In order to become the master of your destiny, you have to be the master of your past first. Even though there are infinite possible interpretations of ones own history, one has to choose one. None of them are "true", but all are valid.
"The color is hideous enough, and unreliable enough, and infuriating enough, but the pattern is torturing. You think you have mastered it , but just as you get well underway in following, it turns a back-somersault and there you are. It slaps you in the face, knocks you down, and tramples upon you. It is a bad dream. The outside pattern is a florid arabesque, reminding one of a fungus. If you can imagine a toadstool in joints, and interminable string of toads, budding and sprouting in endless convolutions--why, that is something like it."
"The Yellow Wallpaper" Installation 2003